Nightclub & Bar 2017 Recap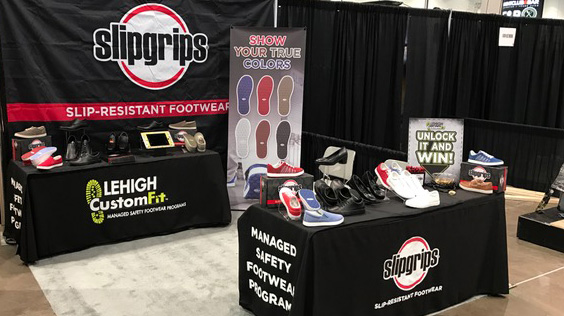 March 2017 - SlipGrips attended the Nightclub & Bar show for the first time this year. We were excited to show off our new non-slip tread technology, brands and styles to the bar and nightlife industry's biggest expo.
As a division of Lehigh Outfitters, we also highlighted and promoted our highly accredited managed corporate shoe program called CustomFit - demonstrating to the many attendees how, as employers, they can save time and money and reduce their risk and liability by keeping their employees safe from slips, trips and falls.
Wet, soapy floors are a constant safety hazard in a bar or nightclub environment. Business owners and Risk / Safety managers are looking for shoes designed and built to reduce slips and falls so their employees stay safe and on the job. Our booth displayed over 16 well-known slip-resistant brands and a variety of trending non-slip styles for men and women.
A big hit of the SlipGrips booth was our Unlock It & Win game. Check out the booth below and some of the excited visitors who picked the right key to unlock the padlock and won.
Winners received a free pair of SlipGrips featuring DragonGrip Advanced Tread Technology. With superior Mark II test results that surpass other non-slip tread patterns and the future availability of colors in the uppers as well as the outsole, our booth staff heard rave reviews about how these shoes would make a positive impact on their business.
Attending were our Senior VP of Sales and Operations, Jeff Stern; VP of Regional Sales, Jim Murphy; Territory Sales Manager, Allen Becker and Territory Sales Manager, Caleb Robinson.
Refine Search