IAAPA 2016 Recap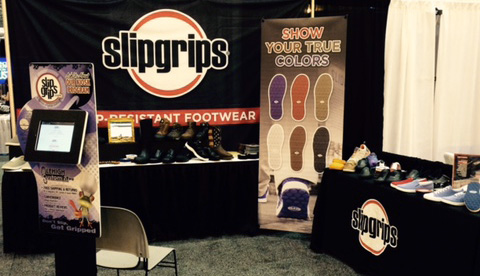 November 2016 - SlipGrips exhibited at the International Association of Amusement Parks and Attractions (IAAPA) Show for the first time. We were thrilled to attend the one-stop destination for the leisure and attractions industry where we launched our new exclusive groundbreaking slip-resistant tread technology, DragonGrip.
We also spotlighted our managed corporate shoe program called CustomFit which enables owners and safety managers of Amusement Parks, Entertainment Centers, Recreation Facilities, Zoos, Aquariums, and Resorts to save time and money and reduce their risk and liability by keeping their employees safe from slips, trips and falls.
It was truly a fun and exciting show and was the perfect atmosphere for introducing the next big thing to work the floor – our proprietary slip-resistant tread pattern, DragonGrip.
Independent laboratory Mark II ASTM F1677-05 test results confirm unrivaled performance in maximum surface-to-surface contact to prevent slipping and sliding. The result is reduced slip/fall incidents and improved jobsite safety.
Visitors and press were drawn to the booth with pre-show emails and advertising. Check out our in-booth video presentation given by our Senior VP of Sales and Operations, Jeff Stern.
Refine Search