Indian Gaming 2017 Recap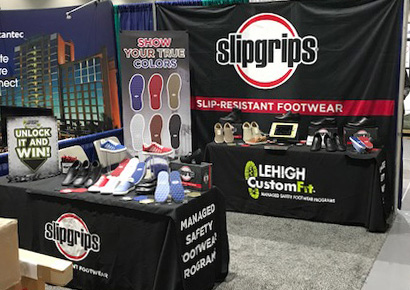 April 2017 - SlipGrips attended the Indian Gaming Show for the first time this year. We were thrilled to finally attend the longest running gaming industry show and highlight our new exclusive slip-resistant tread technology, brands and styles.
We also spotlighted our managed corporate shoe program called CustomFit which helps casino owners save time and money and reduce their risk and liability by keeping their employees safe from slips, trips and falls.
The gaming industry environment includes kitchens, bars and other tiled floor spaces that have the potential to be slippery when wet. Human Resource and Safety Managers need shoes designed to reduce slips and falls so their employees always stay standing. Our booth offered over 16 slip-resistant brands and a variety of non-slip styles for men and women.
Visitors were drawn to our booth by our full-page ad in Gaming News featuring our new DragonGrip Advanced Tread Technology. With superior independent lab test results that surpass other slip-resistant tread patterns these shoes were a big deal.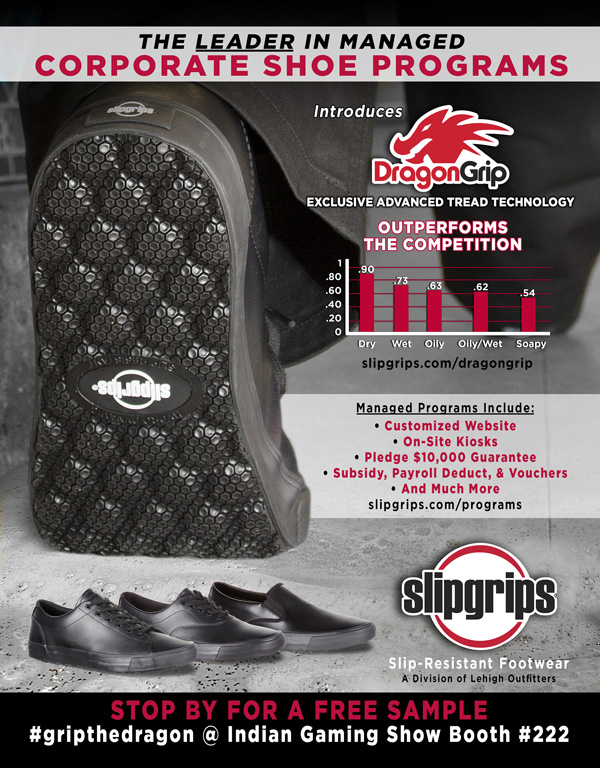 Gaming News also ran 3 feature articles: SlipGrips Launches New Groundbreaking Slip-Resistant Tread Design, Why You Need A SlipGrips Managed Safety Footwear Program, and SlipGrips: The Leader In Managed Corporate Shoe Programs.
Attending were our Senior VP of Sales and Operations, Jeff Stern; Director of Operations, Dave Degenhardt; Territory Sales Manager, Allen Becker and Territory Sales Manager, Caleb Robinson.
Refine Search