As Seen in Gaming News and Restaurant Daily News
Why You Need A SlipGrips Managed Corporate Shoe Program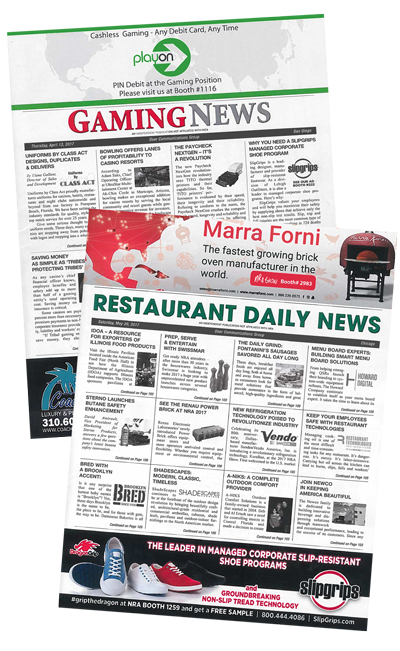 SlipGrips is a leading designer, manufacturer and provider of Slip-Resistant Footwear. As a division of Lehigh Outfitters, it is also the leader in managed corporate shoe programs. Here's why…
We value your employees and will help you maximize their safety by supplying shoes that achieve only the best non-slip test results. Slip, trip and fall injuries are the most common type of workplace injury resulting in 724 deaths on the job in 2013, according to the National Safety Council's 2016 edition of "Injury Facts".
We appreciate your business and want to help you mitigate the risk of worker's compensation claims, insurance premiums and lost productivity from employee injuries. In 2013, there were 229,190 cases involving days away from work, according to the NSC's 2016 edition of "Injury Facts".
We help you cut your budget by passing on the lower overhead of our online solution to save you an average of up to 25% over traditional retail prices.
We save you time by taking you out of the shoe business and alleviate the burden of typical shoe programs. We know it can be a time-consuming headache and hassle. We can fix that – it's what we do.
All of our tools and services work together to provide flexibility so that you can customize and control as much or as little as you want or need to fit your particular business and workload.
Utilizing our Data Exchange service you can opt to order your employee's shoes or have them order their own. They can ship to your work location or direct to the employee's home so that you don't have to touch them. You can customize your footwear selection by department or location to avoid employees ordering the wrong styles for their specific jobsite. You can set employee eligibility to automatically reset to increase security and eliminate abuse.
Our Command Center shows you individual stats, orders, purchases, returns and more for easy reporting, tracking and control. You can confirm your employees have ordered, see when they received their shoes, know which styles are more popular – all allowing you to more accurately plan and budget.
We offer several employee payment options including subsidy, payroll deduction and vouchers and can customize to your company's specific allotments and restrictions. We also offer partial pay for orders with any remaining balance.
Along with our premium SlipGrips styles, we offer over 18 in-demand slip-resistant footwear brands. Choose to offer our entire catalog to your team or a select group that specifically fits your work environment and guarantees they wear the right shoe for the job.
Your staff can order their work shoes through your dedicated website via desktop, tablet, phone or one of our free on-site kiosks.
Our mission is to alleviate your burden of managing a safety footwear program with customized tools, services, selection and savings. We do it exceptionally well and are always a step ahead.
Refine Search